The 15th annual Global Carrier Awards was a lot of glitz, innovation, technology and fun all rolled into one event.  With over 400 in attendance, this year's event was a big success, bringing together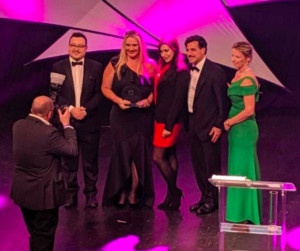 the industry's movers and shakers who joined in celebration of a remarkable year of accomplishments. EdgeConneX was proud to bring home the Best Data Service Innovation – Mature Markets Award for its patented EdgeOS® Data Center Information Manager (DCIM) platform. This unique comprehensive operating system allows EdgeConneX and its clients to manage, monitor and enable their global data center assets, operations, and footprint.
Meeting the Requirements of Our Demanding Data-Driven World
EdgeOS answers the call for a reliable, comprehensive, flexible way to manage and secure infrastructures. It provides EdgeConneX customers with a secure view into their infrastructure, allowing them to see and manage all of their data center deployments, across all of their EdgeConneX locations and includes:
2 million monitored points
600 core to edge to extended edge data centers
18 subsystems
Across 7 countries and 3 continents
All visible on a single pane of glass
This proprietary, integrated end-to-end solution was built to operate highly distributed infrastructure solutions that tie together people, processes, and systems through a single pane of glass with the same look and feel, no matter the scale or the location.
Focused on delivering unsurpassed digital experiences since 2010, EdgeConneX has never stopped driving technology innovation and helping its customers define and deliver their own unique vision for the Edge. It is the only data center provider that can support the entire span of customer requirements from under 100kw to over 100mw in virtually any market worldwide, and developed EdgeOS with its customers in mind. To learn more, visit www.edgeconnex.com.
And…Cheers to the EdgeConneX team!