Interconnection Facility Operator Colo Atl Announces Acquisition by American Tower Corporation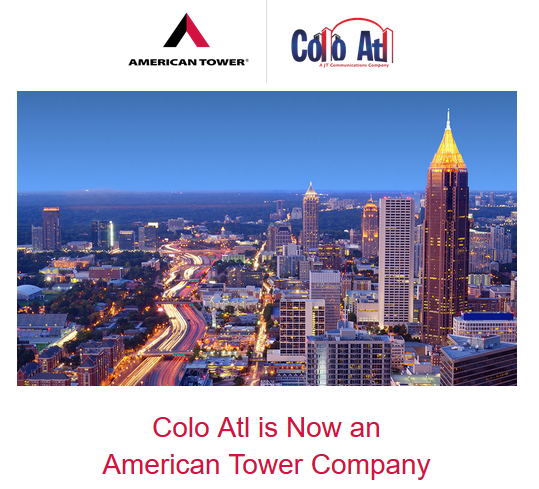 Colo Atl, formerly a JT Communications Company, is officially now an American Tower Company! A leading provider of carrier-neutral colocation, data center and interconnection solutions, Colo Atl was recently acquired by American Tower Corporation, one of the largest global REITs and a leading independent owner, operator and developer of multitenant communications real estate. This transaction represents American Tower Corporation's very first acquisition in the data center sector.
It's been an amazing journey for Colo Atl Owner and Founder, (and longtime JSA Client and friend!) Tim Kiser. Tim founded Colo Atl in 2001 with the mission to allow network operators to securely and conveniently interconnect within an SSAE 18 certified facility with 100% uptime and exceptional customer support and personal attention. Since then, for 17 consecutive years, Colo Atl has fulfilled this mission and has created, what Tim calls, a true "Colo Atl Family."
"I am pleased to announce the sale of Colo Atl to American Tower. We could not have asked for a better strategic partner to take on the growth opportunity for this platform. We look forward to working with the American Tower team to extend our track record of delivering exceptional service and value for our customers' interconnection and colocation needs," Tim stated.

"This transaction, completed through our innovation program, will enable American Tower to evaluate the interconnection marketplace directly as a complement to future edge data center proliferation and network resiliency initiatives on the path towards 5G. The combination of a strong existing business, a clear path towards additional growth and the opportunity to leverage Colo ATL's unique position in the data center space to learn more about the convergence of network connectivity around 5G was extremely attractive for us," added John Ghirardelli, Director, U.S. Innovation for American Tower and new General Manager for Colo Atl.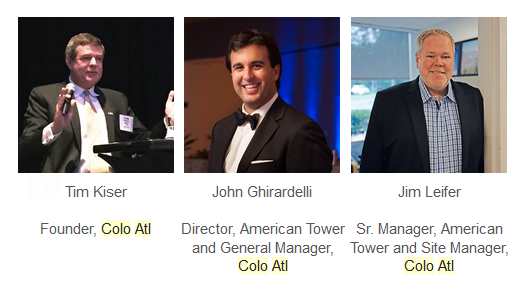 As Colo Atl transitions to becoming part of American Tower, both Tim and John are inviting Colo Atl customers, partners and friends a "Meet & Greet" Open House on Tuesday, April 23. The Colo Atl team and the new American Tower team will be available to help meet your interconnection and colocation goals. To RSVP for this event, which includes lunch from 12 pm to 1 pm, please email [email protected].

For those who cannot make the April 23 event, Colo Atl wil plan other events and opportunities to connect in the near future. 
From all of us here at JSA, we wish the best of luck to Colo Atl and we are honored to be a part of this wonderful company's journey!