Star-studded lineup to discuss the technological developments that are changing the world
The fifth annual Data Center Austin Conference (DCAC) to be held September 24-25, 2019 in Austin, Texas was created to explore the latest on emerging technologies and how to impact change within the data center industry. DCAC just announced its initial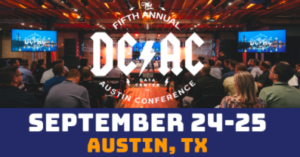 roster of speakers including:
Priscilla Johnson, Ph.D., the Director of Water Strategy for Cloud Operations and Innovation at Microsoft
Shawn Tugwell, Director, Data Center Architecture & Engineering at PayPal
Allen Tucker, Managing Director, Data Center & Site Selection at JLL
Dr. Julie Albright, a sociologist specializing in digital culture and communications, who has appeared on CNN, the NBC Nightly News, and the Today Show and author of the book, "Left to Their Own Devices: How Digital Natives Are Reshaping the American Dream.
Amy Peck, the founder and CEO of EndeavorVR, a strategy and consulting firm focused on Augmented and Virtual Reality, and author of the upcoming book, "Blockchain is the New Black."
Phill Lawson-Shanks, Chief Development Officer at Aligned Energy
Mark Thiele, Director of Engineering for Edge Computing at Ericsson
As humankind enters the Fourth Industrial Revolution, DCAC's marquee line-up will focus on the technologies that will drive data center demand, including IoT, smart city applications and autonomous vehicles.
"By popular demand, DCAC 2019 is expanding to a two-day summit, which will enable us to present an even broader lineup of technologists and futurists who will address what we can anticipate from these exciting advances, as well as the data center leaders who will be charged with keeping pace with the accompanying surging workloads, while upholding sustainability and the environmental stewardship of our planet." – Kirk Offel, founder of DCAC
Additional speakers and details concerning content and programming will be released in forthcoming press announcements.A limited number of DCAC 2019 sponsorships are still available and inquiries can made by emailing [email protected]. To learn more about DCAC and reserve tickets to the event, visit www.dcac-live.com.