Conference season is upon us and JSA is making the rounds, connecting with clients and networking with some of the most fascinating thought leaders in the industry. This past week, members of our New York based team had the chance to attend DatacenterDynamics' 17th annual DCD New York, a data center-focused, bustling conference filled with companies up and down the OSI stack. Thanks in part to DCD's Global Partnership with Uptime Institute, we were inundated with fascinating roundtables, presentations, and demonstrations that we were fortunate enough to sit in on.
A big focus for this year's event was how to effectively execute some of these big data center buzzwords, such as "edge". There were many presentations that covered how next-generation and advanced technologies will help get your data center to the edge (and what to do after you get there). Interestingly, "The Pulse Check: Where Will Edge-Processing Live in 2025?" weaved in the possibility that we as an industry might be overestimating the role data centers will play in edge computing. The concern is that there are still some unknowns on whether edge-capable technology such as smartphones and autonomous vehicles will require enough processing power to necessitate edge-capable data centers.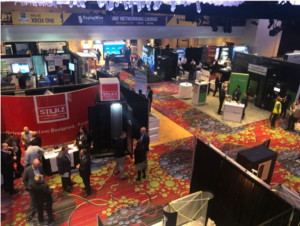 On Day Two, JSA sat in on an informative presentation on the benefits of digitizing your data center. Digitalizing the data center is a hot topic right now, with new information continuously being revealed. (Did you know that adapting a digitalized data center strategy can save providers up to 150 tons of CO2 emissions?) Additionally, "digitalizing" ends up reducing costs and latency while still increasing safety and efficiency. It can even streamline your infrastructure by reducing the amount of physical wires and, in turn, reduce the amount of time necessary to test your systems.
Thank you DCD for such an informative (and fun!) event. At JSA, we get so much value from learning and networking with new friends and old. Remember to stay up-to-date on where JSA will be by following us on Twitter and LinkedIn.
Next up is Telecom Exchange (TEX) NYC at The W Hoboken from May 14-15. Click here to register; we look forward to seeing you there!