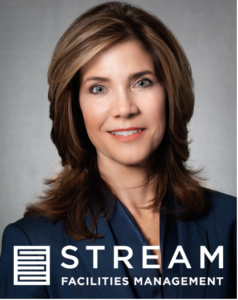 Over the past few months, Stream Data Centers, a Dallas-based provider of premium data center solutions, has been looking for someone to lead sales of its Facilities Management Solutions across the US. Now, that search has come to an end.
The company just announced that Simone Walzel, as Vice President of Facilities Management Solutions, will be its main point of contact for customers in need of Stream's extensive suite of support offerings. With more than 20 years in the mission-critical industry, Simone understands the complexities around delivering critical environments solutions to a variety of customers nationally.
"I am extremely thrilled and proud to be joining Stream because of their true partnership approach with customers. For years now, Stream has leveraged its team of experts to deploy best-in-class facilities management operations across North America. I look forward to working with our current and future customers to ensure our services are optimized and adapted to efficiently meet their evolving needs." – Simone Walzel, Vice President, Facilities Management Solutions

"At Stream, we understand customers' needs and deliver innovative solutions to meet their service and operational requirements. Simone will bring a wealth of knowledge and be an invaluable asset to our team because of her experience in helping some of the largest companies in the world resolve their facilities management challenges. Over the coming months, she will help us serve more companies with the resources needed to successfully meet critical environments management objectives." – Stewart Collier, Managing Director of Facilities Management
So, what precisely are Stream's Facilities Management Solutions?
Whereas many data center operators only focus inwards on the resiliency of their own facilities, Stream's consulting services focus outwards on customers with mission-critical environments of their own. Effectively, the company leverages a multi-purpose suite of services, branded as an "Army in Your Pocket", to overcome the facilities management challenges their customers face. In the words of Stewart Collier, "Through this and other growth initiatives, Stream's objective is to deliver on our promise of maximizing uptime without compromising health and safety."
Stream's Facilities Management Services include a variety of specialty consulting services:
To learn more about Stream Data Centers, visit www.streamdatacenters.com.