Cyber threats, data breaches and ransomware attacks are making big headlines.
These threats affect all areas, including state/local governments, healthcare organizations, school districts, and businesses of all sizes.  What would you do if your organization got attacked? What would you do if you were denied access to your IT infrastructure until a ransom is paid? It is important to understand the threats that are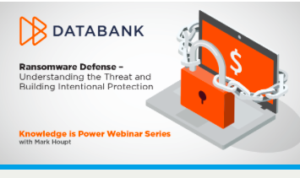 out there and build an intentional, multi-layered protection plan to protect your critical infrastructure, customer information and safeguard your mission and business-critical data. To help organizations learn more, be better prepared and safeguard against attacks DataBank's Chief Information Security Officer (CISO), Mark Houpt, is hosting a webinar to discuss various threats and offer ways to mitigate them.
Learn how to prepare, mitigate, and recover from attacks by understanding the latest variations and trends hackers employ as the attempt to extort money from your organization. Mark will share his 25 years of experience as well as present details about a few actual events so you can better understand this growing threat and mitigate these threats in the organizations you represent. DataBank has you covered across all areas and knows that security is a top priority and requires a multi-layered Defense-in-Depth approach combined with an around-the-clock team. DataBank brings a full staff of security engineers and its very own Chief Information Security Officer to every solution it delivers.
Date: December 5, 2019 
Time: 1pm EDT 
Register Now!  
This webinar will help you answer the below questions:
What are the latest variations?

Are they detectable?

Are they defeatable?

Am I a prime target?

How do I navigate, prevent, prepare, and recover?

What are the common denominators?

What are the latest tricks and trends?

You're infected, now what?

What are the compliance impacts? 
In addition, DataBank offers a full range of easy, cost-effective, and secure solutions to save critical business information. It offers a suite of data protection services covering everything from Disaster Recovery as a Service to offsite data storage of backup repositories to Office365 backups.  
More about Mark Houpt, DataBank CISO: Mark holds an MS-ISA (Masters Information Security and Assurance) and numerous security and technical certifications (CISSP, CCSP, CEH, CHFI, Security +, Network+). Mark is an expert in understanding and the interpretation of FedRAMP, HIPAA, and PCI-DSS compliance requirements. Mark is an active member of ISC2, ASIS International, COMPTIA, IAPP, and ISACA
Don't miss out on key information and best practices for protecting your organization, Register Now.