Latest Edition of QSights Released, Focused on how "UCaaS" has evolved into "Integrated Enterprise Collaboration"
QSights, published by Q Advisors, provides thought leadership, independent opinions and data on topics of interest to the telecom, media and technology sectors
According to Hayley Hughes and Wes Faulkenberry, as featured in Q Advisors' September 12 edition of QSights, Unified communications as a service ("UCaaS") "has outlived its usefulness as a term in defining the ever evolving cloud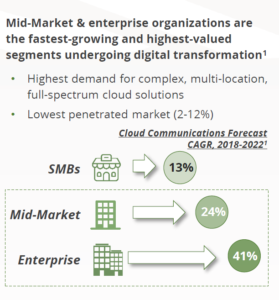 communications and collaboration space." As API integrations, CPaaS, customer engagement, and collaboration tools increase industry-wide, the term "UCaaS" has evolved into "Integrated Enterprise Collaboration."
With the increase in cloud communications adoption worldwide, now spanning all entity sizes, the installation of UCaaS solutions is virtually seamless across organizations. Today's enterprises that are making their way to the cloud are demanding full-spectrum, integrated solutions, ultimately changing the priorities of cloud communications providers.
Customers today are looking for "high-growth offerings," which include a cloud contact center with embedded customer engagement tools, integrated enterprise-grade communications platforms, workforce optimization and AI/analytics.
This latest issue of QSights features Gartner's UCaaS Magic Quadrant key market trends, which are:
Improved dashboards, portals and tools
Workstream collaboration
Globalization
Video-Centric user experience
Gain more insight into the evolution of UCaaS into Integrated Enterprise Collaboration by reading the latest issue of QSights here.