Company to provide live demo of its new Bluetooth-Enabled Tuning Box at SCTE Expo, Sept. 30 to Oct. 3, 2019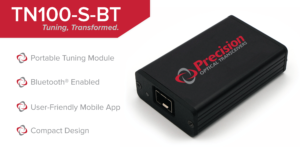 According to Precision OT's CEO, Todd Davis, managing the logistics of an optical network can get difficult without tunable transceivers and the technology required to tune them. That's why the company has announced the launch of its new Bluetooth® enabled TN100-S-BT tuning box and corresponding mobile tuning application for its SFP+ optical transceivers. The goal is to make it simpler and more affordable for network operators to use DWDM technologies within their architectures.
"For a while now, Precision OT has been a part of the wider industry trend toward supporting the use of tunable optics. Already, our hallmark TN100-XS tuning box allows customers with a USB connection to a computer to configure our tunable SFP+ and XFP optics as desired. But now, we've gone one step further. In fact, customers with our SFP+ optics no longer need a computer connection to tune their equipment. Our newest tuning box, the TN100-S-BT, is Bluetooth® enabled, which means that, as long as technicians have the corresponding tuning app on their phone, they can set their optics to any of the standard ITU C-Band 50GHz or 100GHz channels of their choice – all on the go." – Todd Davis, CEO of Precision OT
Precision OT's TN100-S-BT tuning module is approximately half the size of the company's standard TN100-XS box. Each TN100-S-BT features an SFP+ port, making it a stellar choice for customers with optics from within that family. Customers can download the corresponding tuning application to their devices and begin tuning immediately.
Benefits of Employing Tunable Transceivers:
Eliminate the sparing of hundreds of fixed channel CWDM/DWDM transceivers with one tunable optic
Acquire tuning flexibility to any of the standard ITU C-band 50GHz or 100GHz spaced channels
Leverage a simple, user-friendly mobile application interface with Android and iOS compatibility
Acquire new features without the need for software installation procedures or security concerns
To learn more about Precision OT, visit the company's website at www.precisionot.com. To connect with Precision OT at SCTE Expo, email [email protected]