Event Raises Money for Children and Teens Who Recently Lost a Sibling, Parent or Guardian
When it comes to supporting worthy causes in its local community, Precision OT, a leading provider of optical transceivers and related active/passive components, is setting an excellent example. They are sponsoring the 6th annual Dreams from Drake Birthday Bash on Sunday, June 2. Held at the Total Sports Experience in Rochester, New York, from 4-6 pm ET, the event is put on by Dreams from Drake, which provides helpful resources for children and teens who have lost a sibling, parent or guardian.
Designed to offer a fun-filled day of activities for attendees, the Birthday Bash is free and open to the public. The event welcomes close to 1,000 attendees each year.
"The Precision OT family takes great pride in supporting and raising awareness for Dreams from Drake. We invite everyone to join us at the Birthday Bash on June second." – Todd Davis, CEO of Precision OT
Named in memory of 4-year-old Drake Ross Pettit, Dreams from Drake was founded by members of his family in 2013. All funds raised at the Birthday Bash go toward the foundation's services and resources, which include bereavement camps, support groups for adults and children, birthday gifts, meals, gifts during the holiday season and access to literature helpful in understanding and dealing with grief. The organization supports 40 children annually through Camp Heartstrings/Camp Dreams Bereavement Camp, Monroe County's first bereavement camp for children and teens grieving the loss of a sibling or parent. Families will be able to donate at the Birthday Bash by participating in the silent auction, raffle, bake sales and T-shirt sale.
"Every service we provide is free to the families with whom we work. Without the support of our community and our sponsors, there would be no Dreams from Drake. We are forever grateful to everyone who makes it possible to fulfill our mission. We heal better, together." – Haverly Erskine, Co-Founder of Dreams from Drake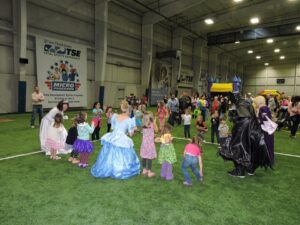 This year's Birthday Bash falls on the day after Drake would have turned eleven years old. The Dreams from Drake foundation is eager to celebrate his spirit and his love for parties by offering a variety of exciting activities, from an inaugural dodgeball tournament to bounce houses, live cotton candy spinning, a popcorn bar, face painting, a live robotics demonstration, Rochester sports mascots and over $2,000 in raffle and auctions.
There are no pre-event ticket sales for the Birthday Bash and donations can be made at the door. The foundation is accepting donations for the silent auction and raffle. For information on how to donate or sponsor the event, please contact [email protected].