CEO Gil Santaliz offers expertise for local media covering the new generation of smart technology
New Jersey's 24-hour news channel, News 12, turned to NJFX CEO Gil Santaliz for expertise in its coverage of the race to 5G. We've been hearing about 5G as the next internet revolution. Reporter Nick Meidanis got insight from Santaliz on what exactly 5G will enable in the months and years to come. New Jersey has the telecommunications infrastructure in place to help roll out 5G. Watch the full report here.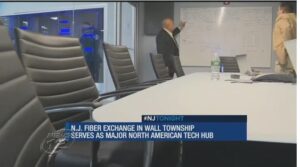 NJFX owns and operates a 64,800 square foot purpose-built Tier 3 Cable Landing Station (CLS) Colocation facility and 58-acre campus in Wall, NJ. This unique campus is the only CLS colocation campus in the U.S supported by several route-independent carriers that offer direct access to multiple independent subsea cable systems interconnecting North America, Europe, South America and the Caribbean. The facility offers access to TGN1, TGN2, Seaborn and HAVFRUE/AEC2 (2019) and Wall-LI (2020) subsea cable systems. High and low-density colocation solutions are available with 24/7 support. Visit www.njfx.net to learn more. Follow on Twitter, LinkedIn and Facebook.