The Nordics – What is Fueling the Region's Subsea Connectivity?
Roy Hilliard, VP of NJFX  heads to Marseille July 8 -10 to help answer that question. Speaking at Capacity's Subsea EMEA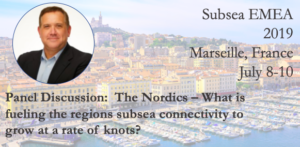 conference in Marseille, France,  Roy will share his unique insights and experience. NJFX was recently announced as the conduit in the US for Bulk Infrastructure's Nordic Gateway, the on-ramp solution into the Havfrue Cable System, stretching 7,200 kilometers from New Jersey to Ireland, Denmark and Norway. Bulk Infrastructure's exclusive ownership of the Norwegian branch of the system unlocks one of the few genuinely sustainable solutions in the data center industry today. With this solution, the data center industry can utilize 100% pure emissions-free hydropower from the Nordic countries.
The project makes for perfect discussion on the panel, which will include topics such as:
New & diverse submarine fiber infrastructure projects in and around the Nordics
How the region is benefitting from new international subsea cables landing in the North Atlantic
How changes in taxation & regulation are helping to aid the favorable investment environment in the region
How existing & new entrants in the data center space going to help optimize the new subsea networks in the North Atlantic
NJFX represents an innovative new model for cable landing stations. A cable landing station campus, with a fully integrated data center, can do what traditional carrier incumbents have been doing for decades, controlling their networks in a wholesale environment, with no backhaul required, low latency and better access to connectivity.
It is crucial to have clarity in global connectivity. In order to do that, there are now multiple terrestrial options to the CLS and then multiple subsea networks to route across oceans with diverse landings in the next continent. Clarity, operational independence and direct access to subsea capacity whether intercontinental or up and down the coast is the best option.
For more information about NJFX, visit www.njfx.net.