It's a banner week for netsapiens! Already, the B2B provider of unified communications (UCaaS) services celebrated 1 million users of its hallmark product SNAPsolution earlier this week. Now, it has announced the addition of SNAPaccel, its newest managed Infrastructure as a Service (IaaS) offering. With this new service, netsapiens is making it simpler and more affordable for service providers to deploy the SNAPsolution platform or migrate it from on-premise to its cloud-native architecture.
For many smaller and mid-sized service providers, cloud migrations can be an expensive and risky endeavor. In fact, according to industry research, almost half of cloud migrations fail with 70% requiring a design change during the migration itself. Even when successful, at least 50% of service providers end up spending more than they anticipated.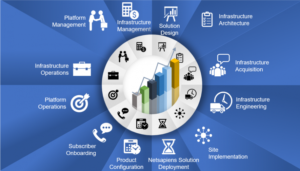 "With netsapiens' SNAPaccel, service providers can eliminate their upfront costs and rely on our expertise to integrate their netsapiens platform software on our fully managed infrastructure. Under this program, we assume the responsibility of designing, acquiring, deploying, configuring and maintaining the physical equipment as well as the operating system on which our customers' UC software runs." – Anand Buch, CEO of netsapiens.

"Because not all As-A-Service models are alike, service providers often have to choose who will control their business model – them or their UC provider. SNAPaccel provides our customers with the highest levels of flexibility and control over not only their business model but also the supporting infrastructure, just without the headache of maintaining it. One interesting data point is that 80 percent of service provider revenues are above the infrastructure, according to the IDC. As a result, it makes sense for service providers to free themselves from costly investments both in infrastructure and the teams to manage it." – Jason Byrne, Senior Vice President of Products and Marketing at netsapiens.
Overall, netsapiens' SNAPaccel offers service providers the opportunity to expand, save money, and focus on core business functions. With the flexibility to offload as much or as little as necessary, from infrastructure to operating system, service providers will benefit from netsapiens' geo-redundant data centers and maintain full control over their business models.
To learn more about SNAPaccel, visit www.netsapiens.com.