The 12th Datacloud Global Awards ended last night with a fab win for EdgeConneX – bringing home the Edge Investment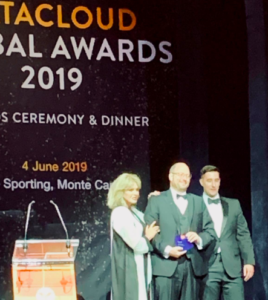 Award. Recognizing the teams, products, innovations and initiatives that demonstrate data center, Edge, cloud and service excellence, the 2019 Datacloud Global Awards are one of the industry's most prestigious. Presented by BroadGroup, the awards ceremony was held June 4th at Salle des Etoiles, Le Sporting Club, Monaco. "The Awards honour the most forward-thinking individuals and advancements in the industry. All of this year's winners are disrupting and innovating in ways we had never imagined and helping to define a new era in the IT infrastructure market." – Philip Low, chairman BroadGroup.
EdgeConneX is the ONLY data center operator that goes where its customers want to go.  Driven by this at every level, EdgeConneX enables their customers to truly define the edge, representing form factors across a full range of data center solutions, from 100kW to 100MW around the globe. EdgeConneX pioneered the Edge data center, building data centers in markets where its customers see a need for proximity, power, capacity, and connectivity. Bringing the Edge quite literally to its customers.
EdgeConneX was chosen for the Edge Investment Award for demonstrating success across their Edge investments over the past year. And what a year it has been!  Here's a look at their latest edge expansion initiatives:
Munich MUN01: Continues Edge Expansion Across Europe – Data Center in Munich, Germany
Warsaw WAW01: Acquisition of Data Center in Warsaw, Poland
Atlanta ATL01-02: Second Atlanta Data Center, More Than Tripling Local Edge Capacity
Chicago CHI02: Availability of 6 MW's of capacity for multi-tenant customers or 9 MW's for a single tenant.
Empowering Your Edge!
EdgeConneX provides a full range of data center solutions worldwide, from Hyperlocal to Hyperscale, from purpose-built to build-to-order, working closely with its customers to offer choice in location, scale, and type of facility. Delivering flexibility, connectivity, proximity, and value, EdgeConneX is a global leader in anytime, anywhere, any scale data center services for a diverse portfolio of industries including Content, Cloud, Networks, Gaming, Automotive, SaaS, IoT, HPC, Security, and more. For more information about EdgeConneX and its leading Edge of network infrastructure solutions for expanding and improving access to data, content, and communications anywhere, anytime, at any scale, visit edgeconnex.com.