We are thrilled to announce the launch of the TEX Portal, an intelligent meeting manager and networking app, specifically designed for community engagement across the tech and telecom industries. As a member of the TEX Portal, you can interact with top decision makers, while also forging longstanding business relationships and improving your overall event ROI.
And before you roll your eyes and think this is just another meeting manager app, consider this: the TEX Portal does not only enable its members to plan one-on-one meetings at any of JSA's quarterly TEX Events (like TEX Dallas, taking place a week from tomorrow), but all industry events. It doesn't stop there, though! The Portal also serves as a platform for members to actively share invaluable ideas and resources within the Portal's Executive Idea Board and Library.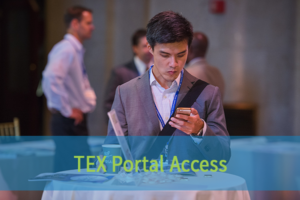 We believe that events should not end at the closing reception, which is why we created an app that keeps the conversation going throughout the year and beyond.
TEX Portal Members can:
Plan meetings virtually and at any/all industry events, including the quarterly Telecom Exchange events;
Select business and technology interests and services so the Portal can then intelligently recommend with whom to meet;
Pitch ideas on the Executive Idea Board to a select group of decision makers or entire member base;
Access and post educational papers and videos in the Library;
First viewing of JSA's Monthly Virtual CEO Roundtable recordings, prior to being released to the industry;
Upload executive bios and company profiles and more.
Members of the TEX Portal include decision makers across the telecom, tech, data center and network infrastructure ecosystem. It's complimentary for JSA retainer clients and confirmed TEX speakers, and access for TEX registered attendees is included with your event pass and remains valid until two weeks following the event.
To learn more about the TEX Portal's groundbreaking platform and annual membership fees, click here.
And if you haven't yet, secure your pass to the TEX Dallas Pop-Up event, taking place Wednesday, March 13. Register today!