Not only has Jeff Sesol, VP of Operations and Revenue, orchestrated processes and procedures that ensure smooth day-to-day JSA operations and continued growth, he has also instilled in our team a love for his hometown of Nashville, Tennessee. Each year the JSA team gathers in Music City for strategic planning sessions, training and team building activities, and Jeff serves as the city's ambassador, introducing us to his favorite activities, food and music venues in the area.  
Our hearts go out to all of those affected by the devastating tornadoes that recently made a destructive path through Nashville. We were relieved to hear that Jeff and his family were out of harm's way, but there are so many that were not as lucky. We will continue to keep our eyes on the news reports on developments in the area and send our very best for a speedy recovery from such a tragic natural disaster. 
With Nashville on our mind, we felt it appropriate to highlight JSA's very own Nashville local, Jeff Sesol, in this installment of "Get to Know Your JSAer".
Jeff, tell us about your background and what attracted you to JSA.
I started my career at Harris Bank in Chicago, where I worked for 13 years as Operations Officer. After leaving Harris in 1993, I became a serial entrepreneur until joining JSA in August of 2017. During that 24 year span, I headed up several companies, most notably a tech startup named FreeDrive. FreeDrive was the predecessor of what we know today as web-based storage. During its heyday, FreeDrive had over 28 million users worldwide; and was eventually acquired by EDS, EMC and Motorola in 2003. After the sale of FreeDrive, I served as an advisor and consultant to several SMBs, helping them to grow to the next level by implementing operational changes, introducing new technologies and/or automation, and developing training programs. My biggest claim to fame during that time was growing a $2M startup to a $24M  enterprise in just over 18 months.  
In addition to seeing that JSA is the leader in Marketing and PR for the telecom industry, I also recognized the amazing company culture. I am a HUGE believer in supporting your employees, because when they are at their best, the company can be at its best.  If you want to grow your company, you have to grow your employees. A recent Forbes article stated that 79% of the people polled quit their jobs due to feeling unappreciated. The conclusion here, of course, is to give your team a place where they can feel appreciated, supported and valued. From the first time I talked to Jaymie and the other members of the JSA family, I could tell they believed in this 'team appreciation' philosophy as well.   
In your opinion, what is the key component to a successful colleague or client relationship?
Taking the time to get to know others on a personal level leads to the best relationships. Whether it's a colleague or a client, we need to find the time to say hello, ask them how they are doing, find out what they like to do for fun, etc. When it comes to clients, take time to visit them onsite, get a tour of the office or facility, then sit down and listen. From there, you can find out what's working, what's not working, what is their plan for the company, and/or where do they want to be in one year and three years from now. This allows you to give them an insightful plan that is responsive to their vision and needs. We live in a time when emails, texts and calls serve as our primary communication methods, but you can't replace a face-to-face meeting to get to know someone.  It's a must for a successful relationship.
If you could move your remote office anywhere in the world for one month, where would it be?
This is a great question, because my wife and I are planning on doing this next year. Ideally, we'd like to go to Italy for our 40th wedding anniversary, so I thought why not just work from there for a month or so. I just want to give it a try while we enjoy the culture, the history and, of course, the wine. The only concern is the time difference, so instead of starting my day at 8 a.m. I would be starting at 3 p.m. and working until 11 p.m. It might take a little getting used to, but it should be fun to try.
What is a goal you've set for yourself recently?
I have actually set three goals recently, focusing on physical, intellectual and spiritual development. My wife and I are training to run a 5k in March and another in May. I would like to finish each run in under 30 minutes. Additionally, I am taking online classes to be a better writer (writing has never been one of my strong suits, but working with the JSA team has really pushed me to focus on getting better in that area). Finally, to give back more. When we lived in Chicago, I was very involved in the men's ministry at our church, and we gave back a lot. Since moving to the Nashville area, I've spent more time meeting new people and not enough time getting involved in the church or the community.  
Tell us about your favorite past-time or escape.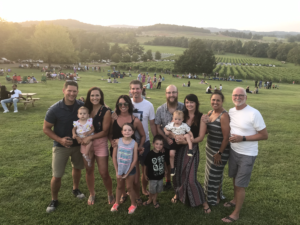 Taking time to just enjoy life with my wife, Mary. We love to explore new places, whether it is planned or spontaneous.  Sometimes we see something while we're driving by and just stop in to check it out. In addition, we like to go hiking, biking and hang out with our kids and grandkids. Most recently I started practicing yoga. My wife has been trying to get me to go to yoga for years, so I finally decided to try it, and I am really enjoying it.