The adage "talent will out" suggests that achievement follows spontaneously, ineluctably from ability. And yet, studies across multiple domains as far back as the nineteenth century have pointed instead to "a triple event of ability, combined with zeal, and the capacity for hard work" to account for the causative factors underlying achievement. In other words, what psychologists and TED talkers are now referring to as "grit."
The ascendency of JSA's Jaclyn Riback Levy since she first joined the agency five plus years ago is demonstrative of such gritty talent and tenacious passion. Known as "Jack" to her colleagues, after working at some of publishing's best-known magazine imprints, she began her telecom-tech public relations career with JSA as an Account Coordinator. It wasn't long before she was appointed Account Manager and Research Department Director, and then Account Director. Today, as Vice President, JSA Marketing and Client Strategy, Jack is a member of the company's executive leadership team.
Recently, I had the pleasure to interview Ms. Riback Levy about such matters as work-life balance, the continuous growth of JSA, and how she came by her knowledge of colocation pricing per kilowatt hour. 
Between leading client strategy and account teams, to writing content and helping to spearhead JSA's marketing initiatives, your work often means long hours and even toiling on the weekend. What do you do to maintain balance and jumpstart your day?
Coffee helps. But also, the team that I'm so privileged to work with could make any job, no matter the hours, enjoyable. I also like to think that a little bit of laughter, whether my Late Night with Stephen Colbert viewings, or Last Week Tonight with John Oliver, coupled with my daughter's smile, could jumpstart anyone's day.
Tell us about one of the first epiphanies you experienced in your early days working as a telecom and tech public relations professional, which still informs how you approach your work today.
Two things come to mind; only one I wish to expand upon. The first, every industry could use a little more of those double X chromosomes. And second, it's pretty cool to be part of a global revolution. What continues to draw me to this industry is its constant relevance, whether it be the smartphone you use every day to the television shows you're constantly streaming – and these are only examples within the four walls of your house. I love to think of our industry as being in the depths of it all. The steel miner that built the railroad tracks.
During my five-plus years at this company, I've not only seen the industry grow, but I've seen JSA grow. We're exploring new territory, venturing into the tech market, and gaining traction worldwide. Our brand exposure has grown not only because of our clients' work, but through our own brand, as a representative of the industry.
For example, during my first year with JSA, Telecom Exchange was an annual event primarily attended by sales people habitually exchanging business cards. Fast forward five-plus years, our TEX NYC event will be one of four annual TEX gatherings that bring together a room of decision-makers who aren't afraid to share their views on current trends, and debate on their approach to the challenges they'll inevitably face in the years to come. 
How would you describe the ideal JSA client?
Exceptionally passionate about what they do.

Communicative.  

Trusting.
Your husband, Michael, also works in the industry, in-house for Rackspace, a global managed cloud computing company. What invaluable business lessons have you learned from him across the kitchen table?
If my husband taught me anything it's confidence, and that "faking it until you make it" is not just a cute idiom. I'm also sad to say that because of him, I know far more than I'd like when it comes to kW colo pricing.
Your daughter, Ella, recently celebrated her first birthday. What invaluable business or life lesson have you learned from your child?
Determination goes a long way and laughing is fine even if you don't get the joke. And not to poo-poo idioms completely, the heart really does expand.
It's well-known you're a cinephile. Tomorrow, you're left shipwrecked on a deserted island. What three films would you want with you before you're rescued after twelve months of seclusion?    
Any cinephile would find this to be an extremely sadistic question…
Forrest Gump, my favorite.

Pulp Fiction, or anything Tarantino.

And a self-help film on how to survive when deserted on an island. Maybe I have a thing for Tom Hanks?
-What two books?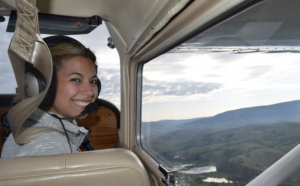 The Year of Magical Thinking by Joan Didion and a collection of poetry – not sure which, but anything with variety, or I imagine I'd get bored.
-What single album?
Is there WiFi on the island? If so, any one of my Spotify playlists.
What great artist, intellectual, or celebrity — living or dead — would you like to meet? What would you most like to discuss withhim or her?
I'd love to have a cocktail with Joan Didion, who is still with us at 84 years-old. I'd be curious to know how she observes without critiquing, loves while still knowing, and how to effortlessly turn suffering into art.  
You're someone who seems acutely aware of the current socio-political zeitgeist. It's safe to say we're "living in interesting times," during which many groups of people feel at odds. What would you advocate in order to unite people?
I'd advocate for less social media and more "in-person" communication (phone and video count now!). Plus, read as much as you can and travel as much as you can afford.
New York City, your home, is often called the greatest city in the world. Do you agree, and why?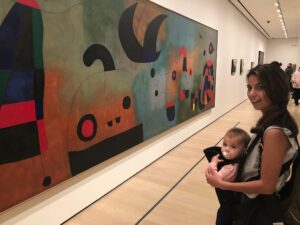 What makes this city great are the people, diversity, and unyielding unity. Plus, you'll never run out of things to do, try, and explore.
What is the next greatest city?
There is no "next greatest city." Next question.
Where does a Saturday afternoon in Manhattan find you?
The three places I can definitively say, pre and post-child: Central Park, museums, bed.
Shifting back to business, what do you consider to be your greatest professional accomplishment to date?
Having the privilege of marketing not only my clients but the company that I work for has to be by far my greatest accomplishment. I've also gotten a pretty good handle on Excel.
If you were ever to adopt a stage name, I'm of the opinion that Queen J-Love Beatitude is something you could easily pull off without hesitation. Do you agree?
I can take on any name, but most people at JSA call me "Jack." Actually, on my very first day, it was Dean Perrine, JSA's Vice President of Client Strategy, that coined "Jack Jack" on my behalf. I believe he was referring to the baby in Pixar's The Incredibles, a boy with undeniable, yet unexplored, superpowers.
Undoubtedly.