Jackie Riback Levy:  Is there a way to ensure ROI from invested marketing dollars by a telecom or network infrastructure company?
Jaymie Scotto Cutaia: In short, yes but it takes several things.  One: a commitment to investing, training and utilizing top technologies, such as ad management tools that leverage machine learning for optimal budget spend and click-through.  Two: a dedicated, trained team who puts strategy first, defines the tough questions like 'why?' and 'why now?' and 'how is this different?", and then puts together a go-to-market plan, setting clear KPIs and executing with conviction and through constant management and optimization. And importantly, three: industry expertise. It's not enough to be able to speak our network infrastructure jargon. Marketers today must understand the emerging market trends, and know the key individuals, companies, events (like ITW) and influencers who are moving the needle in our space. Then, make sure that company's top representatives are in that room, networking and connecting in a meaningful way, to the right people with relevant news.
JRL: What's unique about telecom marketing?
JSC:  This year in particular, telecom providers are facing a number of opportunities and challenges, specifically surrounding 5G wireless technologies, voice-assisted technologies, IoT and cybersecurity. As critical as it is for companies to invest in and devise business models for monetizing 5G and other hot technologies, companies must also invest in their marketing plans to promote them. Their market strategy must also include a unique, targeted, customer-centric message that defines their core differentiators; otherwise they will be lost among the rest of the white noise out there today.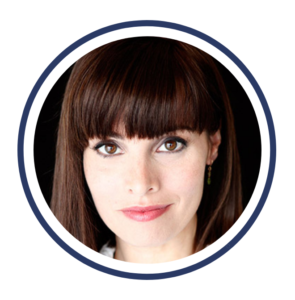 Additionally, our industry is in flux and battle with itself often, with constant M&As, the commoditization of voice and data services, cord-cutting in favor of OTT solutions, and emerging connectivity alternatives, etc.  It is imperative, now more than ever, for cable providers, network operators and mobile players to stay on top of their game, understand their own network assets and competencies, and to align their sales and marketing priorities within a detailed go-to-market plan.  
JRL: What does a solid go-to-market plan include?
JSC:  It starts with strategy.  Answer these critical questions first: who are you targeting?  Why? Where are they located? What are their priorities and preferences?  What are their current pain points? What specific solutions can you offer to help alleviate these pain points? What events do they attend? What are their news sources?
The answers will lead us to defining a core company message that is not just relatable but on point to the target audience. The marketing plan also includes investment in the most effective mediums to convey your message to that specific audience, whether it be event attendance or sponsorship, like here at ITW, or media outreach and placement, award submissions, targeted email campaigns, SEO, digital advertising and more. And today, most mediums have clear tracking methods, so we can quickly understand the value and return on the money spent.
JRL: Can you define the difference between inbound and outbound marketing strategies for our readers?
JSC: Great question. Inbound marketing tactics focus on establishing a presence that organically invites people to your organization, most often through marketing materials conveying educational (and non-promotional) information that is highly useful and relative to the target audience. Outbound tactics refer to the more conventional marketing and advertising methods, such as targeted outreach via billboard ads, magazine advertorials or radio spots.
Simply put, inbound marketing generates qualified leads who have a proven interest in your brand, while outbound marketing builds brand equity through heightened awareness. With a well-thought-out strategy, inbound and outbound marketing can work together akin to a jab and cross boxing combinations. For example, if you've used traditional outbound methods to attract your buyer (the jab), you also need an inbound strategy to nurture this buyer (the cross).  We call this the "1-2 Punch."
This 1-2 punch of inbound and outbound ensures your telecom or data center company is differentiating its message, targeting its core prospects, synching its capabilities to ease clients' pain points and winning more deals, all while benefiting from greater brand exposure. Inbound marcomm builds your company up immediately and focuses on generating a larger volume of customer wins while retaining existing clients through personalized relationship management. Equally important, implementing strong outbound marketing strategies enable you to sell your company for greater dividends in the years ahead.
JRL: I hear JSA released a Marketing Plan Checklist at ITW. Can you give us a sample of what this might look like?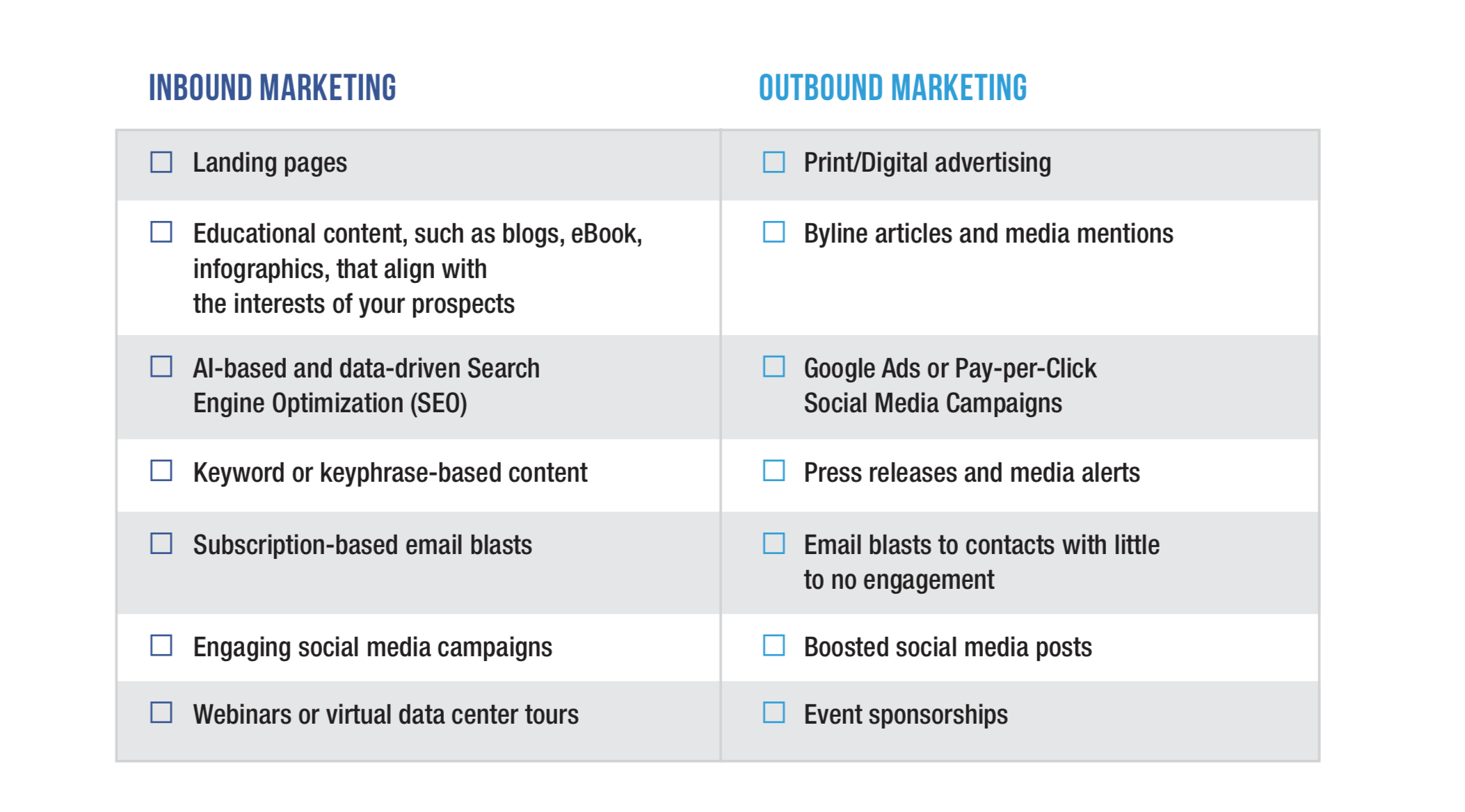 JRL: So how do you successfully implement all of this?
JSC: It's important to set realistic expectations and KPIs out of the gate, followed by assembling the right team and securing proper resources, and then building out a timeline with assigned tasks. As the plan gets executed, be sure to track that success, while monitoring what is and what is not working, and adapt accordingly.
Of course you can always reach out to us, we are here to help at [email protected]. Also, keep following us on Twitter & LinkedIn for more updates from ITW 2019. #HappyNetworking!