Kicking off NANOG 78 today,

 DE-CIX announces a new Point of Presence at NJFX

As the world's leading Internet Exchange (IX) operator providing premium interconnection services, DE-CIX operates a range of carrier and data center-neutral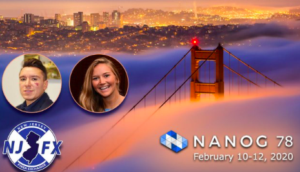 Internet Exchanges in Europe, India, the Middle East, Asia, and the U.S. With the largest IX in the New York market, and one of the top five IXs in the U.S., DE-CIX features access to over 220 networks through a single connection. Now, with its new PoP at NJFX, DE-CIX raises the bar for customer satisfaction, offering the best possible performance by being located at the nexus of four subsea cables connecting three continents. Customers can interexchange traffic across the multiple subsea cable systems available at NJFX, including TGN1, TGN2, and Seabras, in addition to HAVFRUE/AEC2 later this year.
"DE-CIX is establishing more than just a point of presence at NJFX," comments Felix Seda, General Manager for NJFX. "With the deployment of a router to exchange traffic directly at NJFX, it decreases the hops and increases security, while improving latency, and allows carriers and service providers to reach their destinations more directly."
Currently, DE-CIX serves more than 1850 network operators, Internet service providers (ISPs), and content providers from 100+ countries with peering and interconnection services at its more than 20 locations in Europe, the Middle East, Asia, and North America.
"For global enterprises, ISPs, CDNs and network operators, having access to diverse terrestrial and subsea options for connectivity is the coin of the realm, the foundation of their ability to reach new customers and penetrate new markets," states Ivo Ivanov, CEO of DE-CIX International. "By establishing a presence at the NJFX CLS colocation campus, customers are now able to leverage direct, low latency routes to major U.S. business hubs in New York and Ashburn that avoid legacy chokepoints."
For more information, please visit www.njfx.net. To meet with Felix Seda at NANOG 78, please email: [email protected].