EdgeConneX® has built a global footprint of local data centers to support all types of Edge requirements for customers. With vast experience in greenfield builds, retrofitting, real estate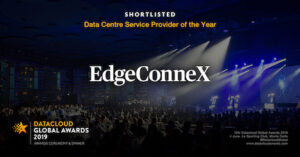 assessment and built to suit projects, the company works with its customers to define, build, and deliver data center capacity that brings the Edge to its customers and its customers to the Edge.  Recognized for its leadership and service excellence, EdgeConneX has been shortlisted for BroadGroup's 12thAnnual Datacloud Global Awards for Data Centre Service Provider of the Year.
"The shortlisted companies present nothing less than companies leading in their categories and who are driving this data centric industry forward through an innovative spirit," Gerd Simon, Chairman of the Judging Panel. Winners will be selected by an independent and international panel of judges and will be announced at the award dinner and ceremony taking place the evening of June 4, 2019, at Le Sporting Club in Monte Carlo, Monaco.
"Our attention remains on delivering a highly proximate data center offering, which can span from hyperlocal to hyperscale facilities, and that enable our customers to best serve their customers," comments Phillip Marangella, Chief Marketing Officer for EdgeConneX. "Our customers demand greater local access to their customers to ensure a true edge experience. And that's what we do. Thank you to BroadGroup for this recognition and for their service to our industry. We're thrilled to have been shortlisted and to be among the very best in our industry."
For more information about EdgeConneX and its leading Edge of network infrastructure solutions for expanding and improving access to data, content, and communications anywhere, anytime, at any scale, visit edgeconnex.com