KC3 Solidifies the Company's Leadership Position in the Greater Kansas City Metro Market
DataBank's newest data center, KC3, is located in the leading tech hub of the MidWest and is celebrating its grand opening. The vibrant Kansas City market has seen a ton of growth with more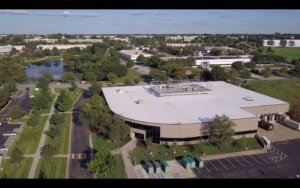 than 8000 new tech jobs since 2011. The city now ranks in the top 15 metros for its size and share of the nation's tech workers, according to Mid-America regional council. KC3 is an enterprise-grade, Tier III data center facility and completes DataBank's high-speed optical metro transport ring in a region with growing demands for connectivity. With private fiber rings linking KC3 to DataBank's KC1 and KC2 facilities, plus large carrier hotels in the market, KC3 provides optimal connectivity to the region.
The more than seven-acre campus currently has a 44,000 square foot data center with 25,000 square feet of raised floor, that can potentially be expanded to 100,000+ of raised floor space. 12MW of total power will be available to the expanded site, with critical load capability of 4-6MW.
KC3's grand opening event is set for May 15th, ad will feature Eddie Kennison, former Kansas City Chiefs wide receiver, who will offer wine tastings from his Barrel 87 Club. In addition, DataBank will have a raffle, food, and opportunities to network with business leaders. Group tours of the new world class data center will also be available.
"Kansas City is quite literally at the center of the country's growing national market for data center services and solutions," comments Raul K. Martynek, CEO of DataBank. "The grand opening of KC3 cements our commitment of providing the highest quality infrastructure solutions and customer support to an area that is home to notable corporate HQs and leading enterprises."
KC3 also meets stringent, secure and compliant solutions for mission critical businesses, including HIPAA, PCI-DSS, SSAE-18, and GDPR. DataBank customers can leverage onsite amenities including a loading dock, office workspace, conference rooms, client labs, tech space, secure storage, break room and staging areas. The site will be staffed with 24×7 on-site security and operations teams. KC3 offers customers direct access to the DataBank's CloudPlus® platform, as well as a full suite of managed services, disaster recovery and storage offerings.
To schedule a tour of KC3, please visit www.databank.com or call 800-840-7533.