Back for the second year in a row, global power management company Eaton is proud to be title sponsor of the Data Center Austin Conference (DCAC) 2019. Taking Austin by storm, September 24-25, DCAC is not-your-average data center summit. Celebrating its fifth year, attendees can expect to be floored by an all-star speaker lineup, creative amenities, and profound insights about the emerging technologies that are shaping the industry. DCAC has grown in popularity every year, with more than 500 attendees at the 2018 summit. Tickets are on sale now for the event, which will be held at Brazos Hall in downtown Austin. During the early bird registration, tickets are priced at $450 and can be purchased online at www.dcac-live.com.
Networking from the Inside Out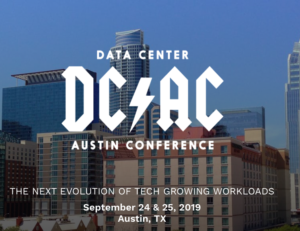 DCAC offers participants what they really want in an industry event – tons of networking and to walk away inspired. This two-day forum brings tech and data center thought leaders together to learn and engage in discussion about the next generation of technologies that are driving compute demand, including Artificial Intelligence, autonomous vehicles, Virtual and Augmented Reality, and more.
"It's truly exhilarating to embark on the fifth year of our dynamic event," commented David Isaac, Director of DCAC, in a recent press announcement. "Eaton is a powerhouse in the industry and was a lead sponsor in 2018. We are thrilled their team will be joining us to rock the data center community once again as title sponsor. Our goal is for participants to walk away with new perspectives and inspired to drive change throughout the industry."
As a power management company working with customers in 175 countries, Eaton provides innovative technologies that help its customers find new ways to manage electrical, hydraulic and mechanical power more efficiently, reliably and safely.
"We are thrilled to be the title sponsor of DCAC," remarked Carl Berry, Vice President and General Manager of Critical Power Solutions at Eaton. "As a global leader in power management, power quality and power distribution, Eaton understands the importance of availability, total cost of ownership, and technology in the dynamic data center industry. From uninterruptible power systems to power distribution units, we are committed to providing a portfolio of products and services that are powering the industry's next wave of innovation."
"DCAC provides an excellent opportunity and forum for key thought leaders and stakeholders in the data center industry to share ideas, trends and technological advances that will positively impact the future and our world," added Berry. "We value our involvement with DCAC, and we look forward to seeing you in September in Austin."