Ascent has expanded once again and this time, it's to one of its several colocation suites at its enterprise class facility (TOR1) in Toronto, Ontario. Ascent, who is the leading provider of comprehensive data center solutions, doesn't stop there though. They have also achieved SSAE 18 SOC2 Type I and Type II status at the TOR1 data center, reinforcing the company's service commitment to security and safeguarding clients' data.
About Ascent's TOR1 Data Center:
Located in Ontario's Information Communication Technology (ICT) Corridor, between Waterloo and Toronto, in the City of Cambridge
Enables Ascent to serve the growing demand for data center capacity in the world-renowned tech hub of Ontario
Offers private cages and managed hosting services
Tenants receive multiple bandwidth offerings starting at 10Megabits Per Second out of band management circuits and direct Internet access
Available advanced bandwidth services starting at a 20Megabits Per Second single connection, going up to multiple 100Gigabits Per Second connections, with blended Internet connectivity options via BGP (Border Gateway Protocol).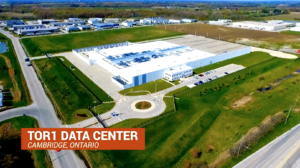 "At Ascent, we're always pushing to offer exceptional services and products to both our new and existing clients," states Phil Horstmann, CEO, of Ascent. "SSAE 18 further augments the incredible infrastructure, robust security attributes, and connectivity/ interconnection qualities of this state of the art facility. Customers of the facility have the capability to customize delivery and colocation configurations to meet their needs."
To read the entire announcement, click here.
Be sure to follow Ascent on Twitter and LinkedIn!