Telecom Exchange (TEX) is proud to welcome City of Hoboken Mayor Ravi Bhalla and Dr. Kevin Ryan of the Stevens Institute of Technology as keynote speakers for our May 14-15 event.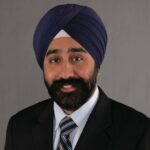 Ravi S. Bhalla was elected Hoboken's 39th Mayor on November 7, 2017. Born and raised in New Jersey, Mayor Bhalla is an 18-year resident of Hoboken and an 8-year member of the Hoboken City Council.
As TEX NYC's Keynote Speaker, Mayor Bhalla will address the latest in smart city developments, focusing on the Tri-State Area, paying particular attention to the connectivity gateway between New York and New Jersey.
Dr. Kevin Ryan, Teaching Professor and Program Director of the Network and Communications Management Services for Stevens Institute of Technology, will follow Mayor Bhalla, and, in an engaging Q&A format, discuss the challenges and opportunities the tech and telecom industries face in raising and incubating young talent for next-generation networks.
The keynote presentation will take place on Wednesday, May 15 at 9:30 A.M. Space is limited. Secure your seat at the table today!